There's no better way to burn off your dog's boundless energy than taking them on a hike.

Exploring the natural scenery offers plenty of mental and physical stimulation for dogs. And it's enjoyable for owners as well.
When your dog has learned quick recall and mastered their manners, you might think about taking them out off-leash.

Off-leash adventures allow dogs to explore freely and it can be great fun for both pets and owners. Make sure your dog can be kept under voice control before you lose the leash.
Only limited numbers of parks and trails allow for off-leash exploration, so always take a leash with you when you head out.

However, when you find a good off-leash park, prepare for it to become your new favorite hangout!
Be aware that leash rules can change from time to time. Trails and hikes both travel through natural landscapes. Uncontrollable factors such as weather and wildlife can sometimes necessitate a change in leash rules.
If you're after a peaceful and serene hike, then you need to give Runyon Canyon a miss. You can expect to share this trail with a lot of people — and their dogs — from opening until the end of the day.
But Runyon Canyon Park has earned its popularity for a reason. The 130-acre dog park includes stunning vistas across canyons and along hillsides, plus plenty of space for pups to roam. Humans and dogs can appreciate the attractive trails that have different difficulty levels.
Leashes are required at the north end of Runyon Canyon Park, but keep an eye out for signs for the off-leash area. The full trail consists of a 3.25-mile hike that encompasses over 700 feet of elevation gain. A shorter 1.65-mile loop covers 500 feet of elevation gain while still offering a decent workout.
The best place to start is at the trailhead near Fuller Avenue. Keep going past the intersection with Hillside Avenue and you'll find parking on the street. There's also an entrance near Mulholland, but the Fuller Avenue start is generally preferred.
For a scenic spot, the Trebek Open Space can be found nearby. Named after Alex Trebek, the public space isn't off-leash, but it's still a pretty destination, and less exhausting than the Runyon Canyon hikes.
Winding through the Santa Monica Mountains, Sullivan Canyon is an 8.5-mile hike east of Will Rodgers State Park.

Starting a few miles north of Sunset Boulevard, the trailhead diverges from Queensferry Road and deposits you straight into the wilderness. Look for the green wall that indicates the start of the hike.
The trail begins with a descent, before heading north up a gentle slope. Enjoy the journey for 4.25 miles, at which point the Sullivan Canyon Trail ends.

If you and your dog have a little more energy left in your legs, you can take a fire road up to Sullivan Ridge before continuing along the trail to San Vicente Mountain.
As a round-trip, you can dictate the length of your trail. The scenery can get a bit repetitive for humans, but dogs won't mind the lack of variation as they enjoy the exercise. In spring, the birdsong brings the path to life. If your dog likes to chase, keep them on the leash.
The best time to visit Sullivan Canyon is during the week. You can expect a semi-quiet hike with only a few other dog walkers around. Plan your visit just right, and you'll have the path mostly to yourself.
On weekends, it's a different story. Mountain bikers tend to crowd out the path during the weekend, which makes it less comfortable for dog walkers. When it's particularly busy, you might prefer to keep them on the leash.
A second-growth redwood forest, Redwood Regional Park is a delight in the summer. The tall trees (often reaching more than 150 feet) offer cooling shade when the sun is high, so you and your dog can walk for longer without getting exhausted.
Dogs are allowed off-leash at certain points in the park. However, pay close attention to the leash requirements.

If you plan on walking the Stream Trail, dogs must remain leashed to prevent damage to the unique salmon population found in the area.
Additionally, keep an eye out for livestock. Cows and sheep are both used as grazing animals in parts of the park.
Numerous trails run through the area, giving you lots to explore. The trails are well-marked and easy to follow, with clearly defined trailheads. Take a moment at the trailhead before you start and you should be able to pick up a map of the area.
For dogs, one of the best paths takes you along the French Trail. You'll need to start at the Skyline Gate Staging Area (try and grab a map while you're there).

Follow the West Ridge trail for around 10 minutes, until it meets the French Trail. Follow the French Trail for as long as you like!
The French Trail is primarily off-leash. You'll travel through the cool shade of the redwood forest — expect to pass a good number of other walkers!
To return to the start, you can either loop back around or cut into the Stream Trail. Keep in mind the Stream Trail is leashed. But by this point, your dog should be feeling tired from the walk and happy to keep close.
It's the views that attract visitors to the Westridge trail. Once taken over by a military facility, the elevated hike now offers stunning panoramas of West L.A. across the Santa Monica Mountains. And, it's dog-friendly.
The trail features a fire road running alongside a single-track trail. For a harder hike, head to the single-track trail, which features plenty of climbs and descents.

However, keep in mind that this is tough going anyway — the trail covers 7.4 miles and a 730-foot elevation gain.
The trail starts at Westridge Road in Brentwood, but you quickly leave the neighborhood behind. Follow the road north, which takes you along the west side of the ridge. Make sure to look back, to see Downtown LA over the skyline.
There are some odd features along the trail, thanks to its history as a defense facility. As well as quiet spots to soak up the view, you'll also stumble onto old lookout posts and military installations.
At the top of the trailhead are picnic benches and a water fountain, so it's an excellent place to stop and catch your breath. Expect to see a few dog walkers and keep an eye out for cyclists. Mountain bikers are more common on weekends.
Follow the same path back down to where you started. It's a very simple trail to follow, which allows you to take in the unusual views this historical area offers.
It might not be the Redondo Beach that first comes to mind when you hear the name, but this gorgeous and quiet beach in San Mateo County is an excellent destination for dog owners. Located in Half Moon Bay, this beach is something of a local secret.
Although not hugely well-known, Redondo Beach is surprisingly easy to find. Follow Highway 1 for around half a mile south of Half Moon Bay.

Look for a Redondo Beach sign just past Cameron's Inn and Pub. Take this road right and you'll find a small parking lot.
The path from the parking lot to the beach is a bit of a scrabble. Take the slope slowly and be careful where you place your feet (and paws).
Alternatively, follow the dirt trail north. There's a walk down to the beach that's less steep but it's still not easy going. Wear sturdy shoes.
Once you're on the beach itself, the space opens up. Wide and sandy, the beach is bordered by tall cliffs that give it a feeling of seclusion. It's very clean, so your dog can enjoy pawing through the sand, but make sure to clean up after yourself.
If you're after a long walk, you can travel north along the beach to Half Moon Bay State Beach. During low tides, a path opens up to the south that takes you to the tide pools. However, this isn't a great journey for dogs.
Wisdom Tree is one of the quieter hikes in Griffith Park, as well as one of the most dog-friendly. It's also pretty hard going, especially when the weather is warm. Pack lots of water for you and your dog.
The trailhead starts at Lake Hollywood Drive, where you can also find parking. Follow the pavement to a gate and then a dirt road. This will eventually lead you to a single-track trail on the right.
The first part of the trail is the hardest. Expect a steep descent across rugged ground. Luckily, the view here is fantastic, with an excellent angle over Griffith Park. Admiring the view is a good excuse to catch your breath.
Just at the 0.8-mile mark, the trail turns east. Stop here and turn west along the short spur road. This will lead you to the wisdom tree, which provides some needed shade and another excellent view.
Turn back to the trail and head east, carrying on along to Cahuenga Peak. From there, you can keep on walking along to Mount Lee. This is where the trail becomes tricky again, so if you choose to hike it, take your time.
Path erosion has made the Wisdom Tree trail hard in places. It's best to take the track slowly and watch where your feet are going. Sure-footed dogs should do fine, but older dogs might struggle with the first mile.
Stretching over 5,778 acres of wildlife, Las Trampas Wilderness Regional Preserve offers an expansive trail system for hikers and their dogs. Thanks to the sheer size of the park, it has a sense of seclusion, even on the occasional busy days.
The best place to begin is the Bollinger Staging Area. This is the main entrance and you can find it by following Bollinger Canyon Road north until you reach the park.
From here, take the Elderberry Trail into the park. You'll pass through open fields with little shade, so make sure you have plenty of water. Follow the trail for roughly 2 miles, before turning onto the Rocky Ridge View trail for amazing scenery.
But there are plenty of trails within Las Trampas Wilderness Regional Preserve. Maps are available online, so download one before starting your hike.
Las Trampas Wilderness Regional Preserve is abundant with wildlife, so make sure your dog is under voice control. Keep an eye out for the cows as well, which graze in the fields to keep the grass low.
Las Trampas is best hiked in pleasant weather. After rain, the trails turn to thick mud that's very difficult to traverse. If you want to visit, you'll have a more pleasant experience in spring or summer.
Stand on top of the 200-foot high bluffs at Fort Funston and you'll get a good idea of why this spot is a premier destination for hang-gliders. If you don't mind some heavy winds, it's also an excellent destination for dogs.
For an easier walk, start at the parking lot off Skyline Boulevard. The trail takes you up to the cliffs overhanging Mussel Rock Beach, but it's relatively easygoing.
This area is typically off-leash, but watch out for bikers and horses. The trail can get busy on the weekend, so you might want to have a leash to hand just in case. Some areas require a leash due to erosion of the paths.
If you want something a little more challenging, take the trail down to the beach. This is a steep path and it can be strenuous. You'll probably want to stop and catch your breath at either end.
The beach itself is wide and sandy. You can sometimes spot dolphins and seals just past the breakers, so keep an eye on the sea. Be aware that the currents are strong. If your dog likes the water, it shouldn't go any deeper than its paws.
On good days, you can expect to see a lot of dogs on the beach at Fort Funston. It's considered to be a top doggie destination. The crowds tend to come on the weekend or during the evening.
Don't be surprised to come across multiple furry friends on an Upper Canyonback Trail hike. This hike is known for being particularly dog-friendly, with pets sometimes outnumbering humans.
Located in the area known as the Big Wild, Canyonback Ridge travels north to south across the Santa Monica Mountains. Access can be found off Mulholland — follow the road until it makes a sudden left turn, with the trail starting on the left side of the road.
There's both a wide fire road and a narrow single track running along the canyon. They intersect in several places, but it's the single track that takes you to the highest point. Follow the road up for sweeping views.
The return trip takes you along the Lower Canyonback trail. The paved road continues onto Brentwood, with views over the Santa Monica Mountains and the Pacific Ocean.
Canyonback Ridge is a moderately difficult trail. It stretches over 7.75 miles (there and back) with an 800-foot elevation along the way. Shade is inconsistent, so pack water for you and the dog.
To extend your day, you can follow the Hollyhock fire road and loop Mandeville Canyon. If you plan on going further, it's worth taking a leash. Some of the trails are likely to require dogs to be leashed.
Part of the Mid-Peninsula Open Space Preserve, Pulgas Ridge has a dedicated open space for off-leash dogs. The 17.5-acre open space provides an incredible area for dogs to run and play, although they do need to be under voice control.
To get to the Pulgas Ridge open space, head to the Edmonds Road parking lot. From here, walk along the Blue Oak Trail (with the dog on a leash) for under half a mile. You'll soon come across the dedicated off-leash area.
The open space is worth the trip as it offers so much room for dogs to enjoy themselves. Expect to find quite a few furry friends enjoying Pulgas Ridge, especially on the weekends.
As well as the open space, there are various on-leash trails you can access in the park. Be aware that there are also dog-free trails and choose accordingly!
The combination of on/off leash areas makes Pulgas Ridge a great place to practice your training. Enthusiastic dogs can have fun in the off-leash areas while you practice voice commands. Then leash up and head to a trail, to practice walking together.
Conclusion
Exploring trails is a fun activity for dogs and owners alike. You both have the opportunity to discover the natural scenery and burn off some energy. Even better if you can let your dog off the leash to enjoy on their own terms.
However, off-leash doesn't mean out of control. Any dog allowed off their leash, even in designated areas, should be under voice control. This keeps your dog safe, it's better for other people on the trail, and it helps protect the landscape.
When you and your dog are comfortable walking without the leash, it's time to hit the trails! Keep an eye out for any signs restricting access and get exploring.
Frequently Asked Questions
How Do I Know When My Dog Is Ready To Be Off The Leash?
Before your dog is ready to explore off the leash, they need to be able to behave and respond when called.

Recall is crucial, and your dog must respond to their call even when surrounded by distractions.
You also need to consider how your dog reacts to the environment around them. Do they have good manners? Are they comfortable around other animals? Will they stay close by even when they're set free? If you can answer "yes" to these questions, your dog should be ready to go off-leash.
How Do I Know If A Park Or Trail Is Off-Leash?
The easiest way to find out if a park or trail is off-leash is to look online or contact park services directly.

Even if a park is listed as off-leash online, some areas might require a leash, so it's always better to have one with you.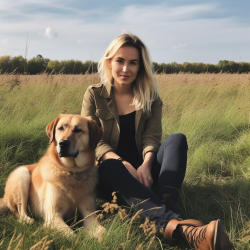 Latest posts by Sharon Isaacs
(see all)